Dr. Jorge Alió shared his experience in symposiums and debates at the 33rd Asia-Pacific Academy of Ophthalmology Congress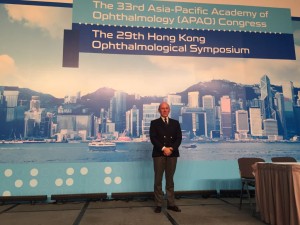 Dr. Jorge Alió went to Asia to participate in the 33rd Asia-Pacific Academy of Ophthalmology Congress (APAO), which this year took place from 8 to 11 February in Hong Kong, held in conjunction with the 29th Hong Kong Ophthalmological Symposium. During this meeting Jorge Alió, the professor of the Miguel Hernandez University of Elche (UMH), had a great opportunity to share his knowledge in corneal regenerative surgery at the Faculty of Medicine of the Chinese city. Moreover, he gave two speeches on correction of presbyopia and its future, as well as a symposium on cataract surgery. It should be mentioned that Jorge Alió is the creator of the concept of microincisional cataract surgery (MICS).
It should also be remembered that Dr. Jorge Alió´s team, formed by Dr. Alio del Barrio, Dr. Mona El Zarif, Dr. Maria de Miguel and other collaborators, has published the first work in the world on stem cells therapy for corneal regeneration in the 'American Journal of Ophthalmology'. This research is a result of a year of an international study organized and directed by Dr. Alió. The research has demonstrated that it is possible to use adipose-derived stem cells, taken from the patient's own eyes, to regenerate the cornea in cases of chronic diseases, in which corneal transplantation was the unique alternative.
In 2016 Dr. Alió was already awarded the 'Achievement Award' at this event, presented by Clement Tham, Secretary-General of APAO Council. This year Jorge Alió has been able to interact with other prestigious professionals such as Chales McGhee, president of APAO; John Chang, current president of the ISRS (International Society of Refractive Surgery), which Alió has been chairing for several years now; Dennis Lam, the president of the Council of the Asia-Pacific Academy of Ophthalmology; and Amar Agarwal, eminent figure in the world of ophthalmology; among other important personalities of Chinese ophthalmology.
Finally, it should be noted that according to the Top Doctors rating, Jorge Alió has been recognized as one of the best physicians in Spain, due to his constant study and dedication. Furthermore, in 2015 he was presented with prestigious "ISRS Presidential Award" by the American Academy of Ophthalmology (AAO) for his dedication and contribution to the field of refractive surgery and the International Society of Refractive Surgery.  In addition, just recently Vision Spain association has awarded Dr. Jorge Alió with the Presidency of Honor.